Contact us using our numbers below
Anti Ram Vehicle Barriers
Anti-ram devices are an anti-theft measure that can increase your property's security against would-be thieves. Whether your premises are close to a road with a higher risk of careless drivers damaging your façade, or in an area with a rising crime rate, your property could benefit from installing an anti-ram barrier across vulnerable access points.
Ram-raiding is an unfortunately common crime, where vandals and thieves ram a vehicle into a building's doors or windows to break them open. After gaining unauthorised access, they will trespass on the premises, vandalise and steal whatever they can get their hands on, then make a swift getaway – usually in the offending vehicle.
The damage to the building, both inside and out, can leave a property owner facing high repair costs – not to mention trying to recover from the financial loss of stolen goods and equipment. Even worse for business premises, damaged shopfronts can result in forced downtime and further financial losses until the damage can be fixed.
An anti-ram post could be just what your property needs to prevent this from happening – acting as a visual deterrent and reducing the driver's ability to damage the building if they do attempt it.
Ram Raid Barriers
Ram-raiders don't just target shops and banks with ATMs, and it's not just city centre or high street properties that are at risk of ram-raids. Anywhere from petrol station forecourts to warehouses could be hit, and ambitious criminals may even target larger premises like distribution centres.
An anti-ram gate from Roller Shutter UK could give you peace of mind that ram-raiders might think twice about burgling your premises, or that the physical barrier can reduce the amount of damage their vehicle could inflict, thanks to their hardwearing steel construction.
This affordable and effective solution can be installed in a range of settings, from retail stores and showrooms to offices and industrial loading bays. Fitting one of our anti-ram vehicle barriers can create the extra level of protection that your building needs.
To find out more about our anti-ram raid barriers, get in touch with the Roller Shutter UK team on 0800 328 9356. We have many years of experience in installing such security measures across the North West England region, so we'll be glad to help you protect your business or home.
We will Beat Any Written or Online Comparable Quotation
Our Recent Anti Ram Barriers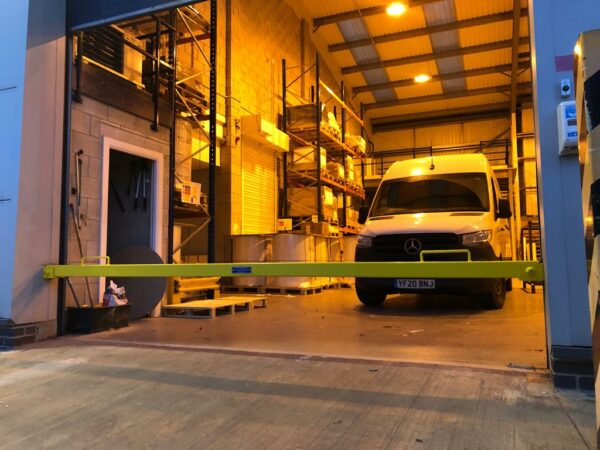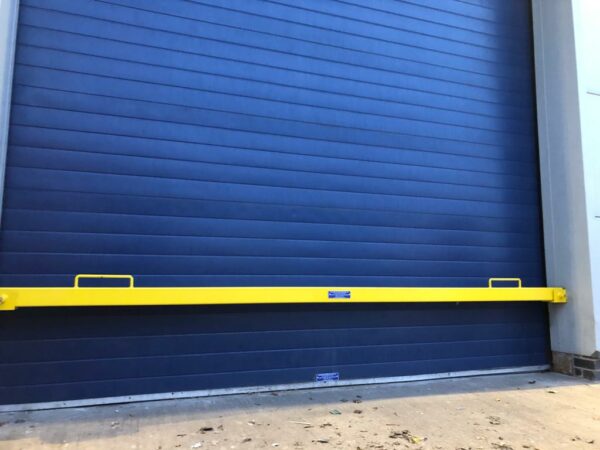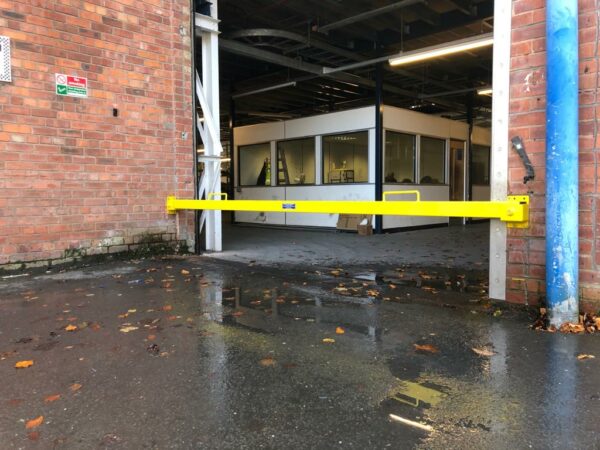 Anti Ram Bars
Protecting your assets has never been easier with horizontal anti-ram barriers from Roller Shutter UK. These are manufactured using high-quality steel box sections for durability, and can be made to measure to fit across openings large and small.
Our bespoke-fit anti-ram systems can also be powder-coated in a standardised colour of your choice – whether to match your building colours or to stand out against them as a visual warning. The presence of a brightly coloured anti-ram bar can go a long way in dissuading would-be assailants!
While the strong steel beam will help to shield an access point against frontal assaults, it doesn't prevent you from accessing your property as normal, so you don't have to worry about it being obstructive when you need to enter or exit.
For more information about how our anti-ram barrier system works, including detailed specifications and customisation options, please contact us by phone or by emailing your enquiry to info@rollershutterservices.co.uk. We'll respond as soon as possible with more details and a quotation if requested.
Anti Ram Barrier Installation
Not only do we manufacture and supply anti-ram barriers, but we also install them professionally to ensure they operate exactly as they should. If you do experience a problem with your anti-ram system, you can always give us a call, and we'll come out to your premises to inspect it and carry out any necessary repairs.
Like our roller shutter maintenance service, we offer both one-time call-outs for emergency repairs and ongoing annual contracts for regular maintenance checks, ensuring your anti-ram gate remains as strong as ever so your property isn't compromised.
If you're looking for multiple security solutions for an entrance point, we would highly recommend contacting us for both bespoke roller shutters and anti-ram shutter door bars. Both made from durable metal and custom-fit to your building's specifications, you can be confident in these systems supplied, installed, and maintained by Roller Shutter UK.
To get started designing your anti-ram barrier solution, call or email our team today, or fill out the contact form on this page to request a quote, and we'll get back to you promptly.
Why Not Speak To An Expert
Speak to an expert today for all the information you require. Contact Us using the form below.